LG Manoj Sinha need to intervene and order CID probe to unveil the irregularities which facilitates selection of several ineligible candidates as Chairpersons, members of CWC and JJBs members in blatant violation of JJA 2015. Allegations of grave irregularities in procuring FAKE experience certificates deserves verification of staff registers as well as salary accounts of NGOs, says aggrieved candidates.   
JAMMU : Rules are being framed to ensure spirit of any Act passed by the Parliament remain intact during its operation to achieve desirable results in consonance with laid down objectives. In sharp contrast to this universal accepted point of law, the selection list of Chairpersons and members of Child Welfare Committee (CWC) besides members of Juvenile Justice Board (JJB) for every districts in J&K Union Territory  issued recently by Social Welfare Department (SWD)  vide S.O No 205 dated 13/04/2023 speaks volume about flagrant violation of Jammu and Kashmir Juvenile Justice (Care and Protection of Children) Act 2016.
While the authorities in SWD seemingly impassive over massive controversy erupted due to allegations of rampant favoritism and nepotism in selection of panels for CWCs and JJBs, the Director, Mission Vatsalya, Harvinder Kour staunchly claimed that selection process of new CWCs and JJBs was conducted with "transparency strictly in accordance" with rules of JJA 2016. Further, she advised the author of this news story to spare some time to study J&K Juvenile Justice Rules, 2021 under the Juvenile Justice (Care and Protection of Children) Act 2016 issued on dated 10/09/2021. 
The authorities in SWD were aware of irregularities in selections process owing to which it deliberately skip the mandatory publication of selected list of CWCs and JJBs panels in two widely circulated newspapers." Instead of putting it in public domain, the authorities in SWD telephonically asking the candidates for joining, reveals an insiders in SWD.
Not only this, even the authorities constituted the selection committee in utmost haste without verifying the credentials of a member, as it is alleged that there is investigation pending against one member in ACB and CB. The investigation in CB is pertaining to murder of one senior IPS officer under mysterious circumstances at residence of one member, alleged our reliable sources. 
Explanation letter issued to Yudhveer by the then DSWO, Udhampur
To correct the record straight, there are allegations that one YudhvIr Singh was selected as JJB member, Udhampur despite the fact that checklist furnished by him prior to interview reads "Not eligible as per the notification, simply BA with 4.5 years experience as CWC member and experience certificate not available".
Not only this, vide letter No DCPO/U/CPS/256-59/2019-20 dated 18/7/2019 issued by the then District Social Welfare Officer, Udhampur, an explanation is also pending against him for an alleged act of misconduct at Bal Ashram, Udhampur. Surprisingly, when contacted, YudhvIr Singh instead of appropriate clarification said "His brother Daljeet Singh is an officer in IB". For digging out truth, 'JK Global News' have a tradition of sparing none whosoever high.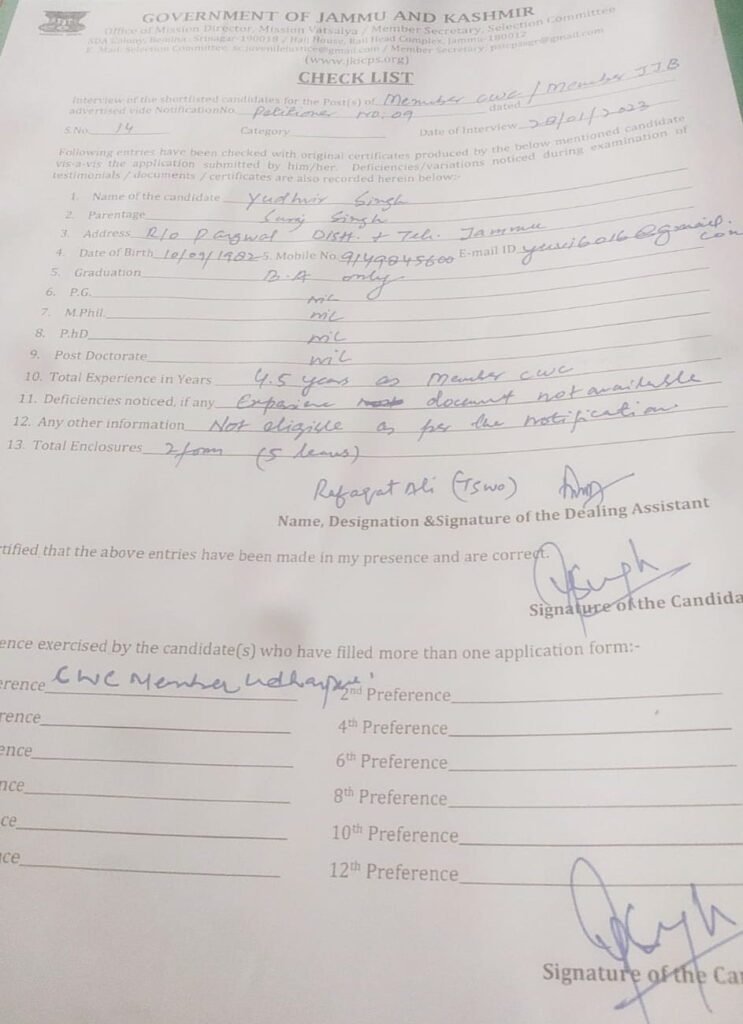 As per J&K Juvenile Justice Rules, 2021 for selection of Chairperson and members of CWC, the Rules mentioned in Chapter IV, sub para 4 reads "A member of the committee shall be eligible for appointment of maximum of 2 terms, which shall not be continuous".   
However, in contravention of the above rules, CWC panels of various districts shows that several candidates who were earlier Chairpersons of CWC were selected as members while those acting as members were shortlisted as Chairpersons.
"There is no defined distinction between Chairperson and members of CWC in the JJA 2015. Technically CWC is comprised of five members where one among them act as Chairperson for administrative convenience who is just one among equal" says our reliable sources in SWD. 
The beneficiaries of this jugglery in Jammu division includes Vidhi Dubey, Nazam Shafi, Sheetal Nain, Priti Santal, Shashi Paul Sharma, Shabir Ahmad. Beneficiaries of favoritism in composition of CWCs from Kashmir division includes Saleema, Waseem Hassan Parray, Afshan Paul, Shubana Hamid, Nazir Ahmad Bhat, Arshid Rahim Naik, Farooq Ahmad Khan.
The advertisement notice  published by the Directorate of Mission Vatsalya, J&K and subsequent publication of corrigendum No SC/JJ/MV/2022-23/11-12 dated 2/8/2022 clears preset mind of the authorities, alleged aggrieved candidates. 
The Act clearly states that candidates must posses 7 years of experience of working with children in the field of education, health, welfare activities or should be a practicing professional with a degree in sociology, Law, child psychology or psychiatry." 
List of candidates sekected as  Chairpersons, Member CWC and member JJB's in violation of qualification criteria mentioned in Juvenile Justice Act 2015
Despite this, several graduates from arts, home science and science streams as well as master degree with undesired streams were selected as Chairpersons and members of CWC as well as members of JJBs in blatant violation of qualification criteria as mentioned in sub section 3 of Chapter II and Chapter IV of J&K Juvenile Justice Rules, 2021. This is not only blatant violation of the JJA 2015 but also mockery of selection process.
Careful examination of the panels of CWCs and JJBs vis viz JJA 2015 clearly shows that the selection committee has exercised the power of amending an Act passed by the Parliament as per own whims and fancies undermining the authority of the Parliament, said aggrieved candidates.
Director, Mission Vatsalya, J&K was also member secretary of selection committee who is duty bound to ensure that entire selection process held in fair manner and strictly in accordance with laid down rules of JJA 2015. The member secretary in selection committee is the guardian of Rules and procedures laid down by the parliament for selection of CWCs and JJBs. If there is anything wrong, the Mission Director can flag it for corrective measure, avers our reliable sources.