JAMMU : 'Hungary Hop' a roadside food kiosk located at high value commercial area in Gandhi Nagar and owned by Aam Admi Party leader Taranjeet Singh alias Tony has been served notice by Jammu Municipal Corporation for running commercial activity by encroaching upon public space in busy Gole Market area.
For decades, the owner has been running food joint in a junked vehicle by parking it on encroached public space for decades together. However, neither the JMC nor the most honest officials of JKP who remained posted in Gandhi Nagar Police Station bothered to act against the encroacher under law.
Waking up from deep slumber, the JMC recently dashed series of notices to owner of 'Hungary Hop' for action under relevant sections of JMC Act for encroaching upon public space for commercial activities.
Reliable sources in JMC revealed that on receipt of notices, the owner met Commisioner JMC, Rahul Yadav after which the action has been brushed under carpet.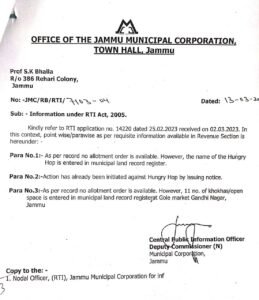 Meanwhile, RTI reply furnished by JMC to the applicant Prof SK Bhalla said that as per record, the JMC never granted permission for running Hungary Hop in public space. But, there is entry of Hungary Hop on Municipal land record register.
"In addition  to Hungary there are 11 other kiosks which are running commercial activities on encroached roadside in the area without any allotment order, reads the reply.
This is matter of indepth investigation as to how the owner of kiosks manipulated entries into the register of JMC but none of them so far able to make available allotment order, said the reliable sources.
The JMC with full might is acting against poor rehriwalas but wonderfully inactive against the crorepatis who openly established their shops on roadside mocking the entire administration.
This is a well established mafia operating from the corridors of JMC which first encourages encroachments on roadside and then after taking handsome bribe  enter their names in allotment register to paint these roadside encroachments at vantage locations in the city as genuine, said JMC insiders.
The silence of the terribly honest Mayor of Jammu who coined the slogan Imaandar Jammu, Shanndar on these roadside is mind-blowing. The motorists as well as the pedestrians are facing a lot problems generally due to these roadside encroachments especially Hungary Hop which has become source of traffic snarls in Gole Market area.